Our History
In 1972, Joseph and Pauline Swiatkowski and their son George began distributing fine cheeses and smoked sausages on a small scale, always striving to provide customers with premium products at an affordable price. As the Akron, Ohio-based business grew, under the leadership of their son George, the company changed focus and began roasting nuts. In 2003, George passed away suddenly, leaving the business in the hands of his wife Darlene and their sons, Joe and Mike, both only in their twenties at the time. Although personally it was a difficult time, the three Swiatkowskis bonded over the business and grew closer than ever as they began to build Hickory Harvest into what it is today – a successful snack provider with annual double digit growth, nearly 100 employees, in-house packaging and manufacturing options, and 250+ high-quality snack varieties.
---
Hickory Harvest Through the Years
At Hickory Harvest, we're always striving for innovation, looking for ways to improve our process and develop even more tasty, on-trend products. Here are some of our highlights along the way:
1972
Began selling smoked sausages and cheeses through state and county fairs throughout Ohio, as well as mail-order business and shipping and distribution to local stores.
LATE 1970
Opened a physical location selling cheeses, sausages, and wine.
1980s
Started oil roasting nuts, now Hickory Harvest's signature product line. Also expanded our product offerings to include candies, confections and dried fruits.
1988
Moved to a large space on Killian Road
1990s
Expanded customer base by selling packaged products to local grocery accounts and national truck/travel chains.
2003
Darlene Swiatkowski became CEO, Joe Swiatkowski was named president and Mike Swiatkowski was named VP of sales.
2006
Purchased I.M. Good Snacks in Canton, Ohio, to grow our customer base and packaging options.
2009
Built a new, state-of-the art food processing facility in Akron, Ohio, to expand our production capabilities and improve operations.
2012
Named top growth manufacturer in the region at 2012 Cascade Capital Growth Awards (Northeast Ohio), an award we then received four years in a row.
2014
Earned SQF Level 2 certification, one of the highest certifications of food safety in the industry. Also started a partnership of chocolate making called the American Confections Company.
2017
Completed a second building renovation to expand our footprint to include a 17,000 square-foot manufacturing facility with new enrobing and panning capabilities.
2018
In 2018 Mike, with the blessing of the company and family, ventured out on his own with the formation of a bulk distribution company.
2020
Joe acquired the company 
2022
July 19, 2022 Hickory Harvest celebrates 50 years in business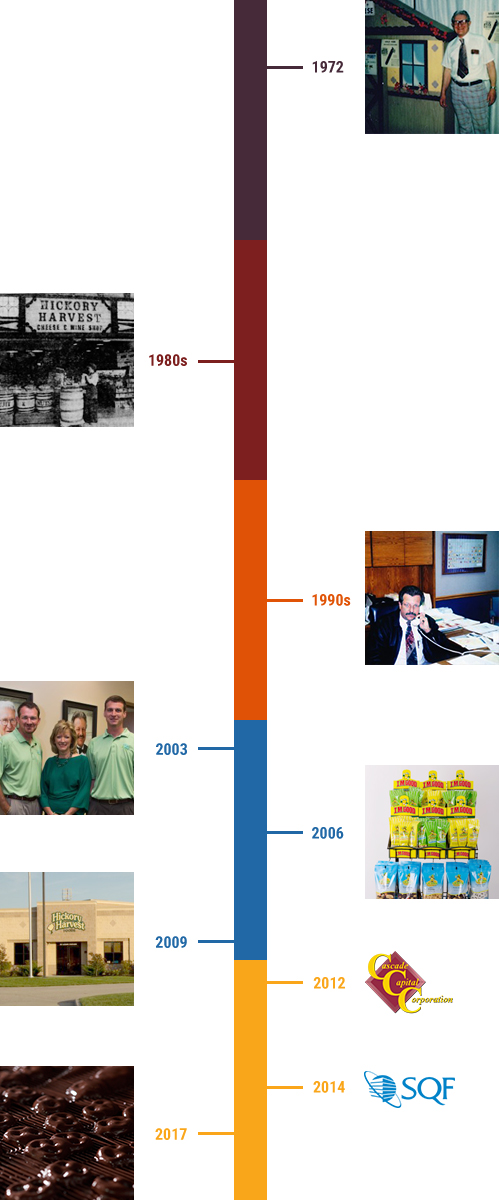 ---
Hickory Harvest plans to continue to build on our reputation for high-quality, great-tasting products with roll-your-sleeves-up, get-the-job-done service. Contact us to learn how.