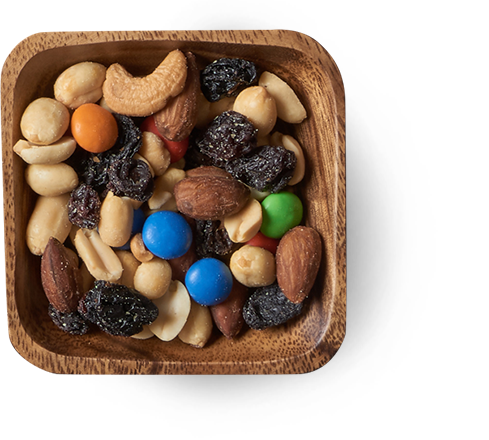 Trail & Snack Mixes
Great-tasting snacks that are good for you – that's right, our trail and snack mixes are exactly what you can expect from The Good Snack People®. Hickory Harvest offers more than three dozen stock trail mixes. With in-house blending capabilities and an innovative spirit, we can also create a special blend just for you.
Now Offering Convenient Multi-Packs
Hickory Harvest is committed to offering high-quality, on-the-go snacks. That's why we're thrilled to introduce our newest offering – multi-packs! Each multi-pack contains eight single-serve mixes for convenient healthy snacking. Multi-pack blends include:
Blueberry Breakfast Blend – Blueberry sesame sticks, dried cranberries, yogurt cranberries, roasted almonds, yogurt granola balls, vanilla granola balls and dried blueberries
Cranberry Fitness Mix – Dried cranberries, XL no salt roasted peanuts, flame raisins, raw sunflower kernels, raw pepitas, raw walnuts
Dark Chocolate Almonds – Wholesome almonds coated with decadent dark chocolate
Peanut Butter Mountain Mix – Roasted salted peanuts, cocoa gems, peanut butter drops, raisins and roasted salted almonds
Power Up Java Blend – Raw almonds, dark chocolate coffee beans, roasted cashews, raisins, dried cranberries, dark chocolate almonds and white drops
Very Cherry Vibe – Honey roasted peanuts, roasted almonds, yogurt raisins, dried tart cherries and dried cranberries
Trail Mixes
Hickory Harvest is passionate about blending unique, energizing and delicious mixes. Choose from dozens of varieties, including:
Antioxidant Blend – Light amber walnut pieces, raw pecans, dried cranberries, raisins, dried blueberries, semisweet chocolate drops
Creme Brûlée – XL no salt roasted peanuts, butter toffee peanuts, yogurt raisins, butterscotch drops, salted roasted almonds
Maple Bacon Munch – Banana chips, no salt roasted almonds, bacon maple sesame sticks, granola balls, cinnamon brown sugar maple peanuts, yogurt raisins
Omega 3 Mix – Dried cranberries, light amber walnut pieces, no salt roasted pepitas, no salt roasted almonds, raw pecan halves
Portage Trail Mix – Coco gems, raisins, salted roasted peanuts, salted roasted almonds, roasted salted cashews
Sriracha Zen – Natural wasabi peas, salted roasted peanuts, sriracha almonds, natural rice crackers, cajun sticks
Zesty Party Mix – Hot and spicy peanuts, cajun sesame sticks, everything sesame sticks, pretzels, chili bits, corn nuts, salted roasted almonds
---
Interested in ordering one of our trail or snack mixes? Have an idea of a special blend you'd like us to create? Contact us right away!