AKRON, OH – Hickory Harvest Foods will produce over 1.2 million bags during the month of October for hurricane relief programs. These bags will be sent to flood victims in Florida, Texas, and the Virgin Islands. "The Hickory Harvest Family is proud to do our part to help fellow Americans during these times of need." said Eric McGrath, VP of Operations.
Hickory Harvest Foods sells its products nationwide to grocery stores, convenience stores and distributors under private labels and store brand of Hickory Harvest Foods. Founded in Akron, Ohio in 1972, the family-owned, third-generation manufacturer / packager continues to grow and expand its annual sales year over year.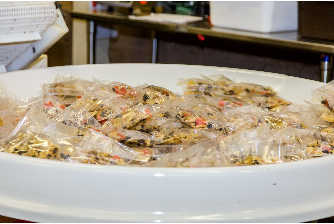 ---
Hickory Harvest Foods, Inc offers the largest selection of premium roasted nuts, flavored nuts, trail mixes, imported dried fruits, snacks and candies sourced from around the world and packaged with an emphasis on quality. Check out Hickory Harvest Foods capabilities at www.hickoryharvest.com or call Mike Swiatkowski, vice president of sales, at 330-644-6266.